Hola!
(Sorry for the double-post! I didn't see the "Kitbiz" category for some reason, so I originally posted in "Arduino Shields". Actually, I'm not sure which category this one belongs in).
I've spent the last four years of my life learning electronics for the express purpose of developing a practical musical instrument of extreme portability. You can judge for yourself, but I feel that I've finally achieved what I set out to do.
http://www.airharp.com
The AirHarp is a kind of digital autoharp that allows you to strum chords in the air on a beam of ultrasound. The pocket-size instrument is held in one hand, leaving the other hand empty for strumming. 4 pushbuttons select up to 15 chords (no button press = no sound), and a 5th allows transposition into any key. Naturally the chords you have direct access to are the so-called "diatonic chords" and their parallel counterparts (i.e., the chords you will need to play 99% of all Western music). So the AirHarp is pretty versatile in terms of the repertoire it can handle. To give you an idea of just how versatile, one of my standard demo pieces is a baroque aria ("Lascia ch'io pianga" from Handel's "Rinaldo"). I strongly feel that the AirHarp would be a great first instrument for an aspiring musician, in addition to being a fun and rewarding electronics project for kit builders.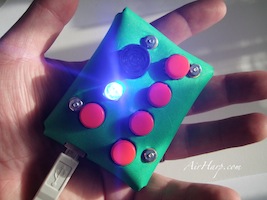 The AirHarp Shield is an Arduino shield that transforms your Arduino Uno into a class-compliant* [with ATmega8u2 hack] USB MIDI controller instrument! Optionally, a synthesizer board (such as Modern Device's "Fluxamasynth Shield") can be sandwiched between the AirHarp Shield and the Arduino, converting the Arduino's MIDI output into audio as a standalone instrument. I've built several of these, and they work very well.
The board is in its 2nd generation, and I am now satisfied that it is ready to market. Pictures, source code and Eagle files are all available on the web site for your consideration. This project is 100% open source. I just want to get these things out into the world, because I think it would be fun to see what people do with them. Any questions, comments, suggestions or proposals are most welcome!
Yours in tinkering,
~ Peter
Lyratron ~ Engineering Elegance
http://www.lyratron.com