I accidentally put the battery in backwards into my Ice Tube Clock. STOOPIDUPSIDEDOWNNIPPLE. (I ain't gonna
read
the terminals of the battery after all,
using my eyeballs like a sucker!
) This doesn't appear to have hurt the clock much, nor I wouldn't expect that it had given the design of the circuit.
I didn't even notice for the longest time, except that the clock never seemed to keep accurate time when it wasn't plugged in like it was supposed to. Instead it just retained the last time it'd been plugged in, which I guess is precisely what would happen if there were no battery in there at all.
So here's my question: Is it possible I've damaged or run down the battery over the past three weeks? I don't really think it is, given the design of the system. Certainly current could flow out the positive end of the battery into ground when it's in backwards, but equal current would likewise need to flow into the ass-end of the battery from somewhere else, and I'm fairly sure the D4 will be blocking that: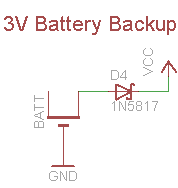 Can anyone tell my if I'm wrong?
The battery
did
seem a bit warm when I pulled and flipped it, but it could've been nothing.