I reckon these 16x2 RGB negative backlight displays are a popular item and I like mine.
However I do have a set of
issues
with these things:
1.) Where's the rest of the datasheet? Mouser stocks these but theirs are CC and they have a proper datasheet.
2.) Why are the LEDs wired in parallel?
Here's how it works. The LED is a common anode (common V+ line). The line to this on the bottom of the PCB has a 100Ω resistor. Then each color has it's own 10Ω resistor on its ground lead.
The result is that when you want to make an RGB color mixer, as I have (with some diligent support), and red, blue and green are driven at full PWM 255 values from an Arduino, then red over-steps all the other colors and thus the output is not white, but pure red. Or if you desire violet, then red at 255 and blue at 255 means you get...Red!
I actually went far enough to duplicate this setup on a breadboard, and the result is identical!
Here is red and blue full-on, no µC or anything to interfere (which you can duplicate on the LCD itself):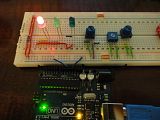 Doesn't look like there's much hoot coming from blue. What if we turn all pots full on?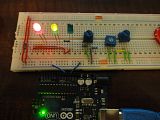 Green is about 60% and red is full on with blue...nothing.
Any particular reason for doing this? See I was told to never run LEDs in parallel for...many reasons. Even if you ran 12 red LEDs in parallel, they have minutely different vF values so that some will be slightly brighter than others.