Hey all I am new to these forums so if I posting in the wrong section let me know.
I'm a electronics newbie. I own a radioshack kit that I have been working with and so when my zune broke I thought I'd try and fix it. I own a zune 30gb and the 24 pin connector that you use to sync/power the device has some bent pins. I would like to desolder this part off and put a new one on but I have no idea as to where to find this part. It appears that there are two plastic pieces that help stabilize the pins and one of them is broken. Anyone know what to call this piece or where I might find it. I tried the foxconn website with no luck...
The connector is on the far left in this shot.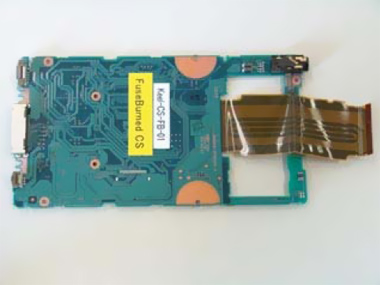 Here is the pin layout (fyi):
01 USB 5VDC(+) USB 5VDC(+)
02 USB 5VDC(+) USB 5VDC(+)
03 USB 5VDC(+) USB 5VDC(+)
04 RXD UART receive
05 TXD UART transmit 57000bps active low
06 reserved
07 reserved
08 reserved
09 Video (+) composte video out / component video Y output
10 Luma component video Pb outpupt
11 Chroma component video Pr outpupt
12 A/V Ground Audio Video ground seperate from power ground
13 Audio L (+)
14 Audio R (+)
15 reserved
16 reserved
17 reserved
18 Detect pull low to being authentication sequence
19 PwrOut/SPDIF pull low to have Zune source power for external devices / Digital Audio out
20 USB Data (-)
21 USB Data (+)
22 USB Ground
23 USB Ground
24 USB Ground
Thanks in advance.
Chau