Snap a picture of your ADAFRUIT clock and post it here!
Moderators: adafruit_support_bill, adafruit
Please be positive and constructive with your questions and comments.
Posts: 86306
Joined: Sat Feb 07, 2009 10:11 am
Awesome clock! Thanks for posting.
---
Posts: 5
Joined: Tue Mar 08, 2016 12:53 am
My newest clock built from Icetube parts.
---
Posts: 7
Joined: Fri Sep 13, 2013 7:48 pm
Here is my "clock" although its primary purpose is a weather station to read the indoor and outdoor temperature with two DS18B20 digital thermometers. I'm using node.js, sqlite3 and guplot to display lots of data.
Last edited by
steveevy
on Thu May 25, 2017 11:55 am, edited 1 time in total.
---
Posts: 8
Joined: Tue Jun 14, 2016 2:03 pm
I THINK that I am done with both building and modifying my ice-tube clock. It only took me 5 years! Stock clock hardware with a new ATMEG328 programmed with xmas-icetube firmware, an Ultimate GPS and the dimmer mod. I mounted the GPS under the unit and I think it is pretty unobtrusive there and seems to work just fine. I put a small piece of electrical tape over the GPS LED because I have the clock in my bedroom right now and the occasional red blink in the dark was annoying.

---
Posts: 5
Joined: Fri May 12, 2017 9:11 pm
Using 1.2 display, chronodot rtc, and 5 sensor capacitive touch breakout board.
---
Posts: 1
Joined: Mon Jun 05, 2017 1:25 am
I'm inspired by all the great ideas here! First post on the forum and here's my clock from concept to reality.
Fritzing breadboard (actually documented last):
Prototype:
Stuffed into the case I designed:
Power ports:
...and a face:
Thanks for looking!
---
Posts: 2
Joined: Tue Aug 01, 2017 2:40 am
This was mainly an exercise, to see if an arduino uno would run a parallel 8-bit 240x320 LCD and the spi port without clashes.
It is fine, using the excellent Adafruit libraries to drive the lcd, and the RTC DS3234 on the spi pins, and an added font.
Strangely hypnotic watching the seconds tick over ! Thanks guys.
Attachments

klok.jpg (59.18 KiB) Viewed 10058 times
---
Posts: 13
Joined: Sat Oct 17, 2015 3:56 am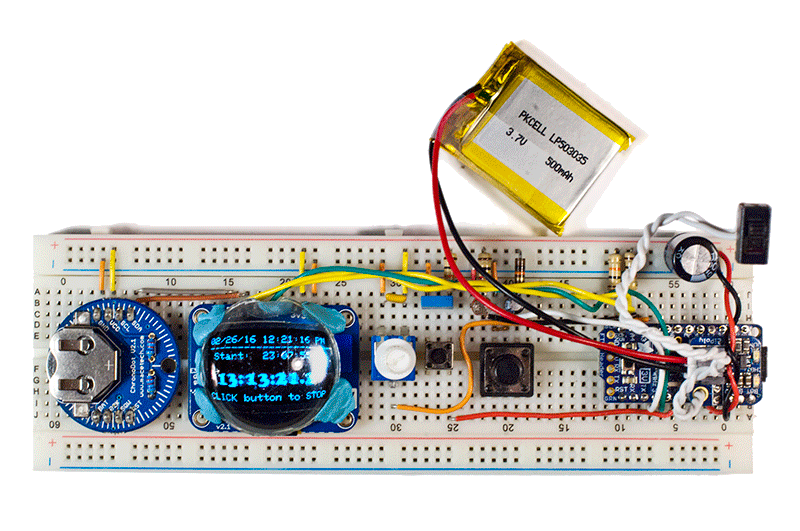 Stopwatch with hundredth second precision, using a 3V trinket pro, battery charger backpack, 128 x 64 oled, chronodot, assorted switches, resistors capacitors and a 10K pot. The lens gives it a bit of Jules Verne appeal.
---
Posts: 13
Joined: Sat Oct 17, 2015 3:56 am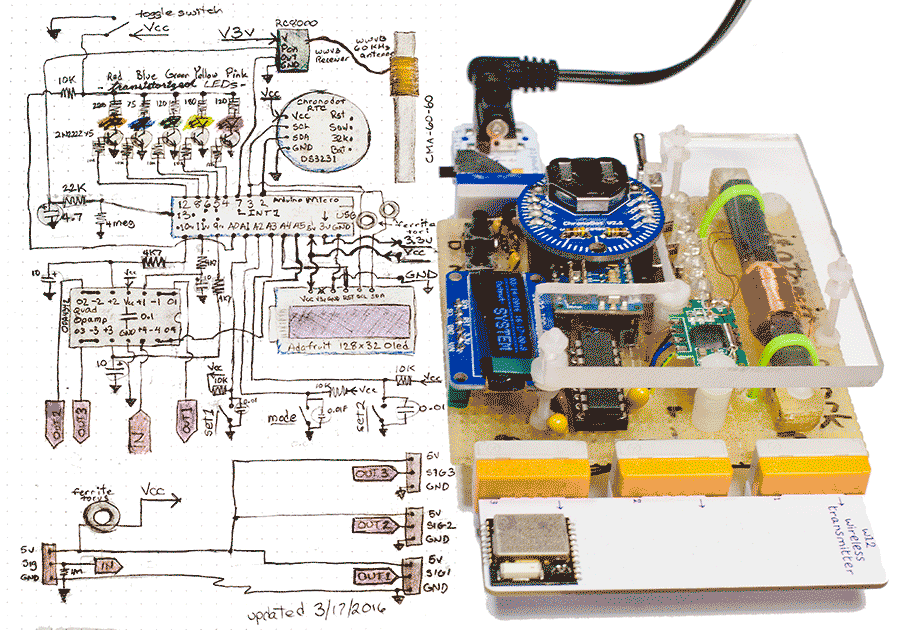 This master "atomic" clock only has a few Adafruit parts, but they are essential (the chronodot and 128x32 oled), an Arduino Micro, the guts to a wwvb radio clock, some high brightness colored LEDs, a quad opamp, a bunch of vintage resistors, capacitors and other hardware. The hours, minutes and seconds are sent via a littleBits wireless device to several slave clocks.
---
Please be positive and constructive with your questions and comments.
---